Program Contents
Final Presentation "Open Forum"
At the end of the final day, an Open Forum will be held with residents of the town. During this forum, we will present the results of the Academy, after which a session will be held called 'I Commit', in which all participants are invited to make a written declaration of their commitment to protecting their families, their communities, and themselves. Through both the Academy and the Open Forum, we aim to encourage many people to become engines of post-disaster recovery along the Tohoku coast.
Open Forum Program
March 12, 2015 "Open Forum" (Japanese PDF)
Reservation required for participation. Phone, E-mail, Fax, available from February 28, 2015.
Program Conents
-Report of the International Grassroots Women's Academy
-Speech from Foreign participants
-Speech from Japanese participants
-[I COMMITT] declaration
-Photo session with the whole participants
MC: Yuko Akama (freelance newscaster)
Guest: Akiko Domoto, Miki Ando, and others (arranging now)
I COMMITT
At the "Open Forum" on March 12, all the participants will declare [I COMMITT].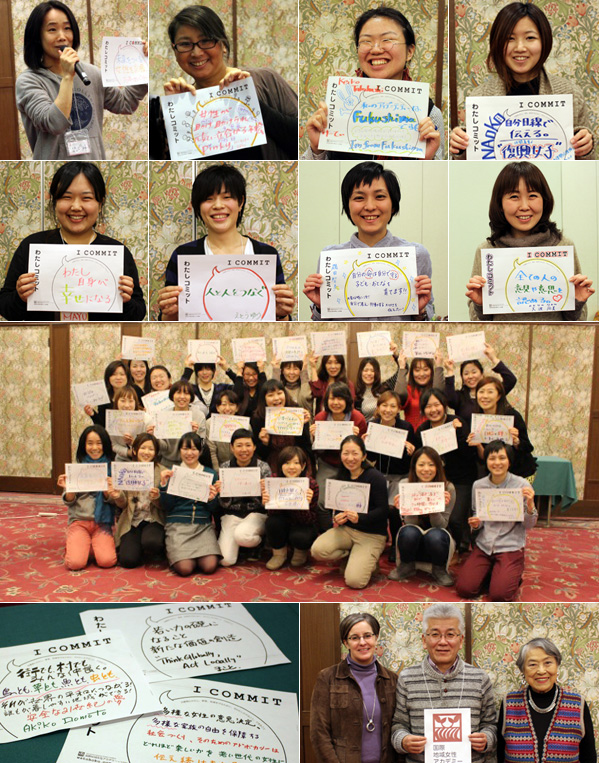 Access
Open Forum Venue
Bayside Arena Bunkakoryu Hall
56 Numata Aza Shizugawa, Minamisanriku-cho, Motoyoshi-gun, Miyagi 986-0725 Japan